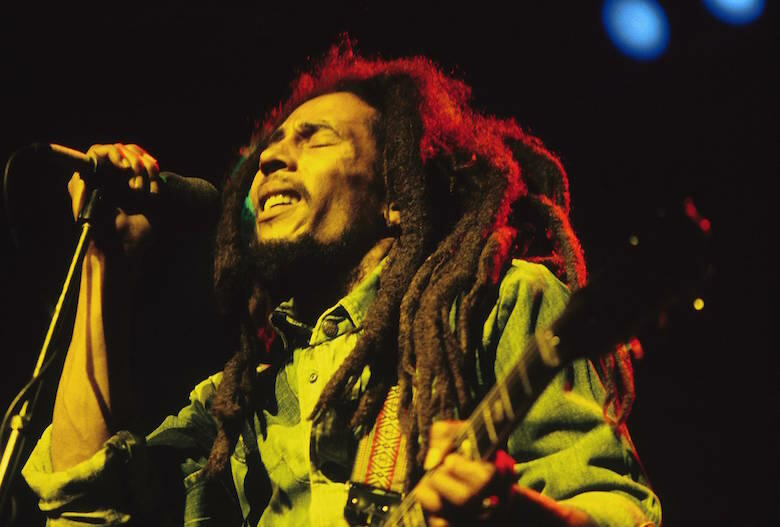 Today would have been Bob Marley's 75th birthday if he had lived. Tragically, he died of cancer on May 11, 1981 at the age of 36. Most people know that Bob Marley and the Wailers put reggae on the map, taking it from obscure local Jamaican music and turning it into the international phenomenon it became. But for me, Bob Marley isn't just another name among the many other ground-breaking musicians of the 1960s and 70s. When we talk about Bob Marley we're not just talking about music anymore; we've crossed into the subject of mysticism and religion. Bob Marley is less like a rock star and more like a biblical messenger.
I grew up in coastal and beach towns, so I always knew who Bob Marley was, but through a lot of my early teens I was more into punk rock and heavy metal. Then in 1993, I was the president of my church youth group at St. Anne's and we took part in an annual Diocesan Youth Camp Out. This was two nights at an outdoor coastal retreat which brought high school kids together from Catholic churches over the whole Florida Panhandle. The theme that year was "One Love, One Life" and Bob Marley's hit song was played at all the activities throughout the weekend. The t-shirts had red, green and gold on them. It was a genuine religious experience on a Florida beach with Bob Marley's message front and center.
I was captivated by how much of Marley's music was religious in its nature. It may as well be gospel music. Listening to Marley's lyrics is like listening to a hymn, and that one-drop beat and the rootsy melodies are infectious. It wasn't a stretch for Marley's music to become an influential part of my ever-growing spiritual life.
As I grew into my late teens, I became more disillusioned with modern life. I'd had a miserable experience in public school. I came to realized that the Church is full of vipers, but only after I had been bitten. I became aware of the corruption of government. The ongoing and almost unconscious genocide of Native peoples weighed on my mind and my soul. I felt like I had been lied to my whole life, and that everything I thought I knew up to that point was propaganda. I didn't know who I was.  What does any of it even mean? I became angry and a little bit radical. I learned that thinking for myself is an act of rebellion.
I could have gone bad at this point, but I didn't. Instead this is when Bob Marley's music became most important to me. It captured my frustration and soothed what it could, and redirected what it couldn't into a positive fire. This was real rebel music. It was rooted in positivity and righteousness, rather than the negativity found in so much of other rebellious music. Rather than being angry, self-destructive and nihilistic, I learned to be impassioned about injustice, and constructive while invigorating my faith and maintaining a sense of wonder about the world. This is what held me together. The message I learned from Bob Marley and through him from other reggae artists and the Rastafarian movement is something that has continually been a guiding light for me over the years.
It encouraged me to embrace my roots.
It helped me bridge the gap between my indigenous traditions and my orthodoxy.
It helped me understand the significance of my place in the greater movement of history.
It helped me to see that each native struggle as another front of the same global struggle for freedom, and sovereignty.
It helped me to understand that I have a role to play in this struggle and how I can fulfill that mission through education, prayer, and service to my people and revitalization of our traditional cultures.
I can't stress enough how important it was for me that this message of reggae didn't just want to teach me rules and ethics and tell me to be a good boy, and it didn't just encourage me to rebel without a cause. The Rastafarian philosophy freely recognized and validated my grievances with the modern world and gave me positive means to deal with negative realities.
So today isn't just another birthday of another popular musician to me. It is the anniversary of the day a great man came into the world who would have a positive spiritual impact on many disillusioned youth throughout the world for over five decades now. He may have saved my life. While Bob Marley should be remembered for his groundbreaking music, he is also remembered for his role as an emissary of the divine, a messenger for the revolutionary word of God – Jah Rastafari.